Airwoman Dinesha Prasadini to Captain the National Women's Volleyball Team
Published on: 9:02am on Thursday 15th September 2011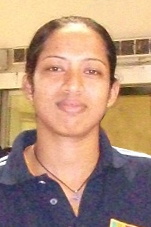 Leading Aircraftwoman Dinesha Prasadini of the SLAF has been appointed to captain the National Women's Volleyball team at the 16th Asian Volleyball Championship to be held at Chinese Taipei from15 to 23 September 2011. Dinesha is representing the national team from 2006 and presently considered the best female spiker in the local volleyball circuit. She was participating as a team member in the Asian Volleyball championship in 2009.Also first time she participates as a team captain in the tournament.

Leading Aircraftwoman JWP Thushari too has been included to the national team at this important tour.

Sri Lanka will compete from Group D, along with South Korea, Japan and Tajikimistan.
© 2019 - Sri Lanka Air Force Directorate of Information Technology. All rights reserved