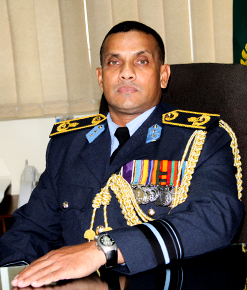 Air Vice Marshal AM De Zoysa
VSV, USP, MSc (Def & Strat Stu), MSc (NSWS-Pak), ndc (Pak), ctf-ndu, psc
Air Vice Marshal Alester Mohan De Zoysa was born on 15th September 1962 in Colombo, Sri Lanka. He was commissioned in the rank 'Pilot Officer' in the SLAF, on 16th August 1982, after 1½ years of ground combat and academic training.

Since then, the SL Air Force has groomed him to undertake assignments in the SLAF Ground Combat Regiment, through a series of professional courses; Ground Duty Officer's Course at IAF Hyderabad in India, Junior Command and Staff Course at PAF Badaber in Pakistan, MSc in Defense & Strategic Studies at DSSC Wellington in India, Counter Terrorism Fellows post graduate diploma course at National Defense University in Washington DC USA, the Program on Terrorism & Security Studies at the George C. Marshall European Center for Security Studies in Garmisch Germany, and the National Security and War Course at National Defense University in Islamabad Pakistan, besides numerous local courses in Sri Lanka related to Conflict Resolution, Laws of War, Diplomacy & International relations, Human Rights, Counseling, and Computer Applications.

During the 36 year career, to date, he had held appointments in varied fields; through, ground combat training, staff duties at AFHQ, air base defense, to command of (brigade level) counter guerrilla operations under the SL Army, and command of operational as well as training stations, and as the Commandant of the Air force Ground Combat Regiment. In this capacity he was responsible for; ground defense of air bases; land based air defense; bomb disposal operations; sniper operations; disaster response; jungle rescue operations; and ground combat training in the Air Force. He was also responsible for all Counter Terrorism (ground) operations undertaken by the Air Force. Most recently, he has served as the Director Training/SLAF (2008-2010) and the Director Ground Operations/SLAF (2011-2012) at Air Force Head-Quarters. Also, he has served in the Ministry of Foreign Affairs of Sri Lanka, on 'Secondment' as the Director of Taskforce Secretariat for CHOGM 2013 event (2012 – 2014) and the Director Human Rights/MFA (2014 – 2016) where he was responsible to facilitate the National Reconciliation Mechanism on behalf of the Foreign Ministry.

Presently, he holds the appointment 'Director Training' at the Air Force HQ and also functions as the 'Deputy Chief of Staff' of Sri Lanka Air Force.

He has been awarded the "Desha Putra" sammanaya for being wounded-in-action; on 2nd January 2009, he sustained injuries in an LTTE suicide bomber attack in Colombo.

He is an avid photographer, adventurer, survivalist, camper & hiker. In his leisure time he coaches 'Boy Scouts/Girl Guides' in outdoor adventure, jungle survival and team-cohesion/leadership. He has setup adventure training centers in Kosgama – Avissawella, and deep in the jungles bordering the Knuckles mountain range in Dumbara - Kandy.

He is married to Prabhica (48 yrs) and has a daughter Tehani (24 yrs) and a son Eksith (19 yrs).