RSF Challengers Sink Lion Hearts to Clinch the Second CPL T-10 Cricket Title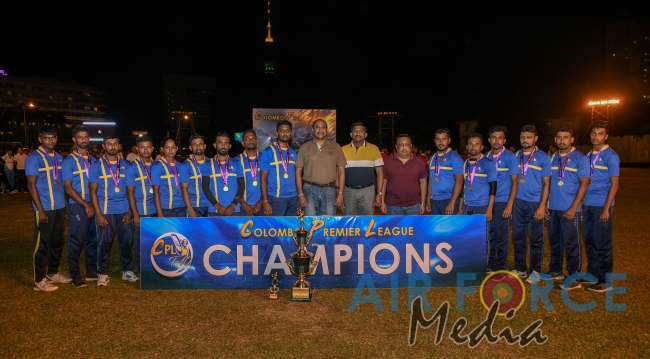 The Colombo Premier League -2019 (CPL T-10) Cricket Tournament held at the Rifle Green Grounds was organized by SLAF Station Colombo for the second consecutive year from 20th August to 10th September 2019.

A total of 40 teams contested for the title at the Riffle Green Grounds, Colombo and 4 teams qualified for the Semi Finals which was held on 9th September 2019. Lion Heart (Team from Sector IV) went up against the Black Eagles (Team from SABF) while the RSF Challengers (Team from RSF element at AFHQ) went up against the ROCT Spiders (Team from the Electronic Section). Lion Heart and the RSF Challengers made it to the finals.

The grand finale of the CPL T-10 2019 was held under lights at the Rifle Green Grounds last night (10th September 2019) with the participation of Commander of the Air Force, Air Marshal Sumangala Dias. Members of the Air Force Board of Management, Air Force officers and a large gathering of other ranks were also presented at the venue to cheer on the teams and to witness this grand finale.

Winning the toss, the RSF Challengers decided to field first and manage to restrict Lion Hearts to 119 runs. During the Lion Heart innings Leading Aircraftman Deshapriya top scored with 56 runs. Chasing a target of 120 runs, the RSF Challengers reached their mark on the last ball of the match with a huge six. Leading Aircraftman Edirisinghe top scored for the RSF Challengers with 29 runs which included 3 sixes and a four. Leading Aircraftman Lakruwan was adjudged the Man of the Series for his tremendous contribution towards the victories of the RSF Challengers throughout the tournament.

Scorecard
Lion Hearts

119 runs for 4 wickets in 10 overs
Leading Aircraftman Deshapriya 56 runs
Leading Aircraftman Samarageewa 51 runs
Leading Aircraftman Lakruwan 2 overs, 2 wickets for 12 runs
RSF Challengers
124 runs for 5 wickets in 10 Overs
Leading Aircraftman Edirisinghe 29 runs
Leading Aircraftman Lakruwan 26 runs
Corporal Kumara 2 overs, 2 wickets for 18 runs
Man of the Series
Leading Aircraftman Lakruwan