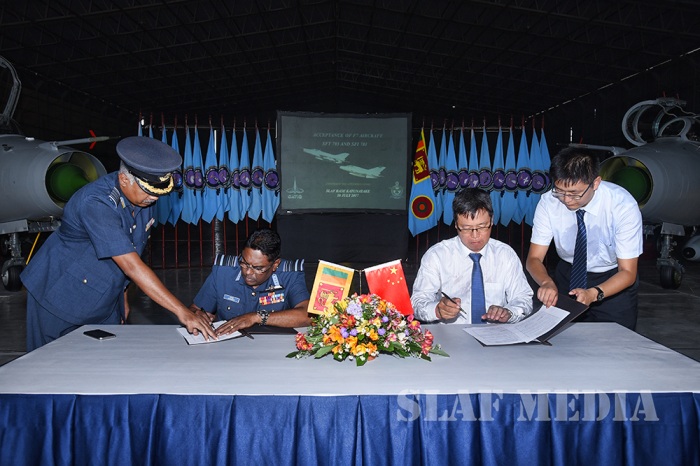 Two F-7 Aircraft Accepted after Overhaul at the SLAF Overhaul Facility
8:47am on Tuesday 11th July 2017
The first two F-7 Aircraft overhauled as part of the establishment of the Aircraft Overhaul Wing at Sri Lanka Air Force Base, Katunayake, were accepted by the Commander of the Sri Lanka Air Force, Air Marshal Kapila Jayampathy yesterday (10 July 2017) at a simple ceremony at Katunayake. The event was attended also by the Chief of Staff of the Air Force, Air Vice Marshal Sumangala Dias, members of the Air Force Board of Management and other officers as well as representatives of the Aviation Engineering Division of the M/S CATIC of China, who are partnering the SLAF in this technology transfer project.

The Aircraft Overhaul Wing was established at the beginning of the year 2016 with the technical assistance of M/S CATIC. The Chinese specialist are expected to assist and guide the SLAF in establishing the facilities and in the first few overhauls, after which they are expected to withdraw gradually, leaving the SLAF with the capability to independently handle overhauls. Initially the project is expected to handle the airframe overhaul of Chinese origin aircraft although the SLAF expects that the technology acquired will facilitate the overhaul of other aircraft as well.

The concept of Technology transfer is a common practice in most countries where foreign origin aircraft are inducted and used over a period of time. The practice permits the user nation to ensure longevity of the platforms that they acquire without having to rely on foreign assistance and having to dispatch aircraft overseas at great expense in terms of both money and time. While the process of technology transfer requires an initial capital overlay, it is justified by the return on investment over the lifetime of the aircraft fleet. At the same time, the process and facilities such as this also help increase the level of competence of the Aircraft industry of the nation as well and creates opportunities for the technicians engaged in such enterprises to obtain gainful employment even after their retirement from Military Service.