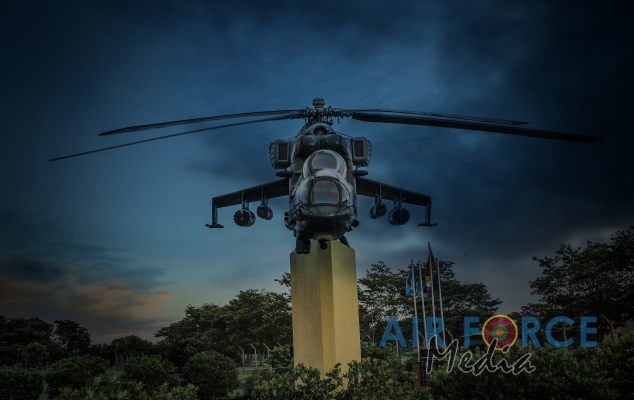 No 9 Helicopter Squadron Home to the Mi-24 Attack Helicopter Celebrates Silver Jubilee
9:23pm on Tuesday 24th November 2020
The No 9 Attack Helicopter Squadron at SLAF Base Hingurakgoda was formed on 24 November 1995 with the induction of three Mi – 24 Attack Helicopters to meet the necessity of a dedicated attack helicopter squadron to provide much needed Close Air Support for ground troops, where the SLAF was left bereft of any aircraft that could fly low and deliver effective firepower.

At that time, the obvious selection was the Russian built Mi-24, feared as the "Flying Tank" and the "Devil's Chariot," a battle tested and dedicated attack helicopter platform that could deliver devastating firepower while flying low.

With the induction of the dreadful Mil Mi.24 "Hind" Attack Helicopters, the No. 9 Attack Helicopter Squadron first commenced operations in 1995 under the leadership of Squadron Leader Jagath Rodrigo. From thereon, the Squadron has been in the forefront of all offensive operations carried out by the Armed Forces, starting from 'Operation Riviresa', 'Jayasikuru' and subsequent operations in Vakarai, Thoppigala and Wanni. The undaunted commitment rendered by the work force of this Squadron to make historic military victories a reality is no secret to the people of our country.

Some of the heaviest losses in terms of men and machines have been experienced by this Squadron when compared to other Flying Formations. The first commanding Officer of the Squadron Wing Commander Jagath Rodrigo himself and eleven other officers along with fifteen airmen of the Squadron made the supreme sacrifice in defending the nation. In appreciation of its astonishing contribution to the nation during the Elam War era the Squadron has been awarded with the presidential colours as well.

Today's anniversary day programme commenced with the traditional Working Parade which was reviewed by the Acting Commanding Officer, Wg Cdr Indika Wijethilake, followed by an address in which he emphasized the meritorious service rendered by the Squadron to usher in peace to our nation and commended the dedicated work done by both past and present personnel of the Squadron.

A tree planting ceremony was also organized at the Squadron marking the historic day with the participation of all members.

Later on in the evening, floral tributes were made to the Mi-24 monument in commemoration of fallen heroes of the Squadron. This event was attended by Base Commanders of Vavuniya and Hingurakgoda, Air Commodore Channa Dissanayake (Commanding Officer, No 9 Squadron from 2014 – 2016), Air Commodore Dhammika Dias (Former Mi-24 Pilot) and Commanding Officers from the No 6 and 7 Helicopter Squadrons, Group Captain Priyamal Fernando and Group Captain Sameera Gunawardane who were also former Mi-24 Pilots as well.