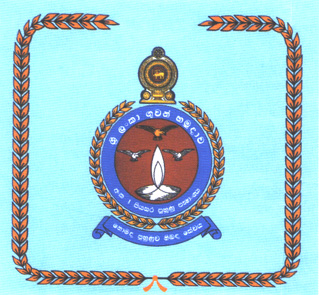 No.1 Flying Training Wing was established on 1st September 1957. Initially located at Katunayake, No. 1 FTW moved to SLAF Base China Bay and remained there until it was re-located at the newly established SLAF Base Anuradhapura in 1985.
The No. 1 Flying Training Wing is responsible to train all pilots enlisted in the SLAF and in its history of 43 years, the formation has trained over 500 pilots making an enormous contribution to the growth and development of the Air Force as it stands today.
The No.1 Flying Training Wing President's Colour will be of Silk, dimensions are 3 feet and 9 inches in length and breadth, exclusive of the pocket of the pike and the fringe to be of 02 inches. Colour will be of ice blue background with the emblem of No.1 Flying Training Wing SLAF Base Anuraghapura in the center. The border is decorated with blue and gold tassels of one-inch length. Unstressed stalks of rice grains decorated in gold colour around the margin of the colour.
The colour pike to be of light wooden material, black coated. Length of the pike is 7 feet and 11 inches. The cord and tassels are in gold and blue.