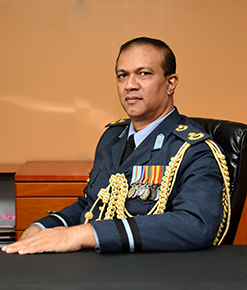 Air Commodore MD Ratnayake

MSc (Def Stu) in Mgt, MDS, psc
Air Commodore MD Rathnayake studied at Kotakadeniya Vidyalaya, Gelioya and Darmaraja College, Kandy. He joined the Sri Lanka Air Force in 1987 and was commissioned as a Pilot Officer in the Technical Engineering branch on 15 March 1989.

During his career in the Sri Lanka Air Force, he has served at No 02 Heavy Transport Squadron and at No 04 VVIP Helicopter Squadron as an Engineering Officer. He has held the several key appointments such as Officer Commanding Maintenance at No 07 Helicopter Squadron, Staff Officer Aeronautical Engineering III at the Directorate of Aeronautical Engineering Air Force Headquarters, Commanding Officer of the Mechanical Transport Repair and Overhaul Wing SLAF Base Katunayake, Commanding Officer of the General Engineering Wing SLAF Base Katunayake, Commanding Officer of the Aircraft Engineering Wing SLAF Base Katunayake, Command Quality Assurance Officer, Deputy Director Aeronautical Engineering and Director General Engineering at Air Force Headquarters Colombo before taking on the position of the Director Aeronautical Engineering.

He has followed Junior Command and Staff Course at the Junior Command and Staff College at SLAF Academy China-Bay and Senior Staff Course at the Defence Services Command and Staff College Batalanda.

He has undergone the Aircraft Maintenance Officers' Course (AMOC) at United States Air Force, Ground Safety Officers' Course in Pakistan Air Force, Senior Engineers' Management Orientation Course (SEMOC) in Indian Air Force, Aircraft Accident Investigation Course in Pakistan Air Force and Bell Helicopter 412/ 212 Main and Tail Rotor Blades Maintenance Course in Singapore.

Air Commodore MD Rathnayake graduated from the General Sir John Kotelawala Defence University obtaining Master's Degree in Defence Studies and Master of Science Degree (Defence Studies) in Management. He is also a licensed Aircraft Maintenance Engineer (Category 'C') from Civil Aviation Authority Sri Lanka (CAASL) for Bell 412 helicopters. Further, he holds Diploma in Professional Diplomacy and World Affairs at Bandaranayake International Diplomatic Training Institute Colombo.

During his distinguished military career of 30 years, he has been awarded with the Sri Lanka Air Force 50th Anniversary Medal, 50th Independent Commemoration Medal, North Humanitarian Operation Medal, East Humanitarian Operation Medal, North and East Operations Medal, Purna Bumhi Padakkama, and Riviresa Campaign Service Medal.

At present, he holds the Chairmanship of both Motor Racing and Kabaddi sports in the Sri Lanka Air Force Sports Council.

Air Commodore MD Ratnayake is married to Mrs Maliga Ratnayake and they are blessed with two daughters, Binary and Bimanya.