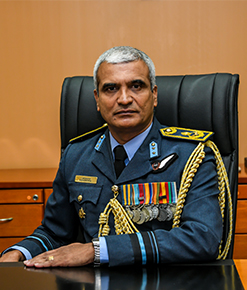 Air Vice Marshal KAL Ranathunga
USP, MSc (Def Stu) in Mgt, MSc (Mil Stu), MDS, fndu (China), psc


Air Vice Marshal KAL Ranathunga was born on 08 June 1964. He received his primary and secondary education at Vijayaba Central College Maho and Maliyadewa College Kurunegala.

He joined the Sri Lanka Air Force on 17 November 1987 as a Pilot Officer in the then Technical Signals Branch. He holds a National Diploma in Technology (Electronics and Telecommunications Engineering) from University of Moratuwa, a Diploma in Quality Management from the Sri Lanka Standard Institute, a Master's Degree (Defence Studies) in Management from the Kotalawala Defence University, a Master's Degree in Defence Studies from the University of Kelaniya having completed his Staff College with the No 1 Defence Services Command and Staff College at Sapugaskanda. He also holds a Master's Degree in Military studies from the Bangladesh University of Professionals, Dhaka having graduated from Defence Services Command and Staff College, Mirpur, Dhaka, Bangladesh. He is also a graduate of the prestigious National Defence University of Beijing, Peoples' Liberation Army, China. He has undergone specialized trainings in various countries such as India, Pakistan, USA and the United Kingdom.

During his career in SLAF he has held number of key appointments within the Electronics Engineering Branch such as Zonal Signals Officer, Northern Zone, Base Signals Officer at SLAF Base Ratmalana and SLAF Base Anuradhapura, Commanding Officer of the Electronics and Telecommunication Engineering Wing at SLAF Base Katunayake, Staff Officers Electronics I at the Directorate of Electronics and Telecommunications Engineering before being appointed as the Director of Electronics and Telecommunication Engineering on 30 August 2018.

During his distinguished military career of over 30 years, Air Vice Marshal Ranathunga has been awarded with the Uttama Seva Padakkama, SLAF 50th Anniversary Medal, Sri Lanka Armed Services Long Service Medal and Clasp, 50th Independence Anniversary Commemoration Medal, East Humanitarian Operations Medal, North Humanitarian Operations Medal, North & East Operational Medal and Clasp, Poorna Bhoomi Padakkama and the Riviresa Campaign Service Medal.


Further, he has served as an aircrew member of the Y-8 transport aircraft and is a proud bearer of the Air Electronics Brevet. Air Vice Marshal Ranathunga is a member of the Air Force Sports Council and until 2017 held the appointment of Chairman Table Tennis. Currently he is the Chairman Aquatic Sports of the SLAF.

Air Vice Marshal Ranathunga is married to Shamalie and they are blessed with two daughters Nethmini and Pamoja.