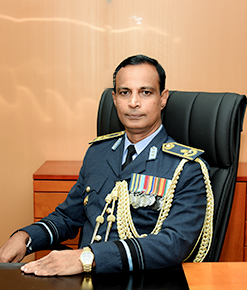 Air Vice Marshal JP Wanigatunge
USP, BSc, MSc(Def Stu) in Mgt, psc
Air Vice Marshal Janak Prasanna Wanigatunge was born on 24th September 1962 and had his primary education at Sri Palee College, Horana and secondary education at Nalanda College, Colombo 10.

He joined the Intake II of the Kotelawale Defence Academy as a Service Cadet on 28 September 1981. After graduating with a Bachelor's Degree in Science from the University of Colombo in 1984 he was commissioned in the Electronics Engineering Branch as a Pilot Officer on 1st January 1985. He obtained his Post Graduate Degree , MSc (Defense Studies) in Management from the General Sir John Kotelawala Defence University in 2004 and completed the Staff Training at the Army Command & Staff College, Sapugaskanda in 2006. He holds a Diploma in Microprocessor Technology from the Hickock Technical Institute, Cleveland, Ohio and a Diploma in Quality Management from Sri Lanka Standards Institute, Colombo.

He has followed the Ground Radar Officer's Course at the Royal Air Force Locking, UK in1987 and the Senior Officers' Management Orientation Course at AFTC, Bangalore, India in 2003. He has also followed FT-5 & FT-07 Aircraft Avionics Maintenance Training in China, Maintenance Training on GRC150 Milcom Tactical HF Communication Equipment in UK and Maintenance Training on Advanced Avionics Systems in Israel.

During his illustrious career of 35 years, he has held several key appointments such as Officer I/C Avionics at E &TE Wing, Katunayaka, Base Signals Officer , SLAF Academy China Bay, Base Signals Officer SLAF Base Vavuniya, Staff Officer Electronics II & Senior Staff Officer Electronics at the Directorate of Electronics & Telecommunication Engineering , Commanding Officer E&TE Wing SLAF Katunayaka, Acting Director Electronics & Telecommunications Engineering at Air Force Headquarters, Colombo, Commanding Officer, Junior Command & Staff College SLAF Academy China Bay and Director General Coordinating at the Office of the Chief of Defence Staff.

He has been awarded with the Uttama Seva Padakkama, Long Services Medal and Clasp, Riviresa Campaign Service Medal, North & East Operational Medal,50th Independence Anniversary Medal, Poorna Bhoomi Padakkama, SLAF 50th Anniversary Medal, North Humanitarian Operations Medal and the East Humanitarian Operations Medal.

He is married to Dr Chandanie Wanigatunge, Specialist Physician and Professor of Pharmacology of the Faculty of Medical Sciences, University of Sri Jayewardenepura and they are blessed with a son, Lahiru who is presently at the Royal Institute Colombo, reading for his LLB from the University of London ,UK.


Directorate of Electronics and Telecommunications Engineering