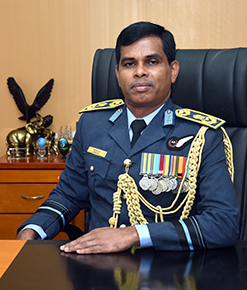 Air Vice Marshal HMB Herath
USP, MSc (Def Stu) in Mgt, BSc (Def Stu)
Air Vice Marshal HMB Herath was born on 16th June 1965. He received his primary and secondary education at Ambanpola Kanishta Vidyalaya and Maliyadewa Boys College Kurunegala.

He joined the Sri Lanka Air Force on 21st July 1987 with the 5th Intake of Officer Cadets at the Kotelawala Defence University. He was commissioned as a Pilot Officer on the 23rd of June 1989 in the Technical Signals Branch. He holds a Bachelor's Degree in Electronics and Telecommunications Engineering and a Master's Degree (Defence Studies) in Management from the Kotelawala Defence University. He has undergone specialized trainings in various countries such as India, Pakistan, Singapore, Israel and Australia.

During his career in SLAF he has held number of key appointments within the Electronics Engineering Branch such as Zonal Signals Officer at Eastern Zone, Base Signals Officer at Air Force Academy China Bay, Officer in Charge of Avionics at No 2 Heavy Transport Squadron, Commanding Officer of the Electronics and Telecommunication Engineering Wing at SLAF Base Ratmalana, Staff Officers Electronics I, II and the Deputy Director of Electronics and Telecommunications Engineering at the Directorate of Electronics and Telecommunications Engineering before being appointed as the Director of Electronics and Telecommunications Engineering on the 8th of July 2019.

During his distinguished military career of over 30 years, Air Vice Marshal Herath has been awarded with the Uttama Seva Padakkama, SLAF 50th Anniversary Medal, Sri Lanka Armed Services Long Service Medal and Clasp, 50th Independence Anniversary Commemoration Medal, East Humanitarian Operations Medal and Clasp, North Humanitarian Operations Medal, North & East Operational Medal and Clasp, Poorna Bhoomi Padakkama and the Riviresa Campaign Service Medal.


He has served as an aircrew member of the Y-8 transport aircraft and is the only serving Electronics Engineering Officer who proudly wears the Air Electronics Brevet.

Further, he is an Accredited Professional of the Green Building Council of Sri Lanka (GBCSL) which is the leading authority to implement green concept and green building practices in Sri Lanka.

Air Vice Marshal Herath is married to Nayomini and they are blessed with two children Kithmini and Chathuraka.