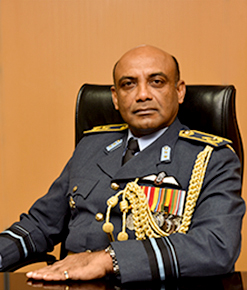 Air Vice Marshal HMSKB Kotakadeniya

WWV, RWP, RSP, USP, MSc(Def & Strat Stu),
fndu,

psc

Air Vice Marshal Sagara Kotakadeniya was born on 27th June 1965. He joined the Sri Lanka Air Force as an Officer Cadet on 3rdJuly 1985 and was commissioned as a pilot officer in the General Duties Pilot Branch on 1st January 1987. He was promoted to his present rank on 1st October 2016.

Air Vice Marshal Kotakadeniya has attended different professional courses including Junior Command and Staff College, Flight Safety and graduated from Defence Services Command and Staff College, India and National Defence University Washington DC, USA. He is a graduate of the prestigious National Defence University Beijing, PLA China and holds a Masters degree in Defence and Strategic Management Studies from University of Madras, India.

He has served in various staff appointments including Staff Officer Air Operation I, Staff Officer (Air) Joint Operations Command and the Chief Instructor of the Air Wing at Defence Service Command and Staff College. He is presently serving as the Director Logistics at the Sri Lanka Air Force Head Quarters.

Further, he has Commanded No. 07 Squadron and is a well recognized VVIP rated pilot with over 4500 flying hours. Further, he has commanded Sri Lanka Air Force Academy China Bay, Sri Lanka Air Force Base Katunayake, Rathmalana, Anuradhapura, Vauniya and Hingurakgoda. He is a member of the Sri Lanka Air Force Sport Council and holds the appointment of Chairman of Air Force Cycling.

Moreover, he has contributed in past humanitarian operations as an Operational Pilot, Operations Commander and for the gallantry he has been decorated with Weera Wickrama Vibushana (WWV), Rana Wickrama Padakkama (RWP), and Rana Sura Padakkama (RSP). Further, for his distinguish and exemplary service has been awarded Uttama Seva Padakkama (USP) and Sri Lanka Armed services Long service Medal in addition to the campaign and operational service medals.

Air Vice Marshal Sagara Kotakadeniya married to Mrs. Sanjeewani Kotakadeniya and is resident in Colombo.



Director Logistics