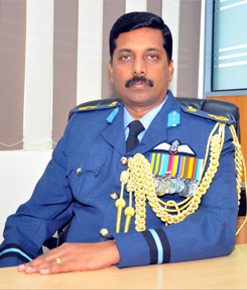 Air Commodore WMKSP Weerasinghe
USP, psc, MA (Fin Econ), MBA, MSc (S&DS), BA (DS), PG Dip IR, MISMM, MIM (SL)
Air Commodore WMKSP Weerasinghe who studied at Ananda College Colombo joined the General Sir John Kotelawala Defence University in 1987 and was commissioned in the Logistics branch of the Sri Lanka Air Force on 23rd June 1989 as a Pilot Officer. He graduated from the General Sir John Kotelawala Defence University in 1990 with first class honours for Bachelor of Arts (Defence Studies) and became the first in order of merit of Intake V winning three awards.
During his career in the SLAF, he had held several key logistics appointments such as Officer in Charge Aircraft Spares Stores at the No 1 Flying Training Wing & Air Movements Section at SLAF Base Anuradhpura, Unit Equipment Officer at SLAF Palaly and Hingurakgoda, Assistant Local Purchasing Officer at the Purchasing Unit SLAF Colombo. He was seconded for flying duties in October 1995 and was an operational helicopter pilot from 1996 to 2001. He was appointed as the Assistant Budget Control Officer at the Air Secretariat AFHQ on 01st August 2001 and has been elevated to the appointment of Budget Control Officer on 18th October 2005. In addition, he was the Acting SLAF Media Spokesman time to time. Air Commodore WMKSP Weerasinghe held the appointments of Assistant Command Procurement Officer – Foreign (Aeronautical), Command Procurement Officer, Secretary to the Departmental Procurement Committee, Commanding Officer Supply & Maintenance Depot Katunayake, Director Budget, Deputy Director logistics and
Director Logistics

until being appointed as the Director Welfare on 18 January 2017.
He is the Chairman of the SLAF Wrestling and was Defence Services Wrestling 2013-2016.
He had followed the 12th Junior Command & Staff Course at the Junior Command and Staff College SLAF Base China Bay and won the Best All Round Officer Award being first in order of merit. He had also followed courses on Storage Management, International Purchasing, Purchasing Management, Materials Management, Supervisory level course on Catering, Aviation Fuel Quality Control and Management and Leadership Development at various local institutes.
He was trained as a pilot at the Indian Air Force Academy Hyderabad, Palam Air Force Base, New Delhi and Air Force Station, Nagpur in India. He was a graduate of the Faculty of Advanced Logistics, Air Force Administrative College, Coimbatore, India. He followed the 45th Basic Staff Course at the Basic Staff School at the Pakistan Air Force Base, Peshawar. He is also a graduate of the prestigious Defence Services Staff College, Wellington, India and University of Madras India with first class honours. He had followed the Financial Management Staff Officer Course at the Keesler AFB USA as well. He had followed Aviation Fuel & Lubricants Management Course at the Indian Oil Corporation Training Center Mumbai India.
He is also a graduate of the University of Colombo and the Rajarata University of Sri Lanka by obtaining Master of Arts in Financial Management degree with a merit pass and Master of Business Administration degree, respectively. He holds a Post Graduate Diploma in International Relations with a merit pass awarded by the Bandaranaike Centre for International Studies affiliated to the Jawaharlal Neru University of India. He has also obtained Diploma on ICT for Cooperative Communication from the University of Stockholm, Sweden.
He is a life member of the Institute of Supply & Materials Management and Institute of Management of Sri Lanka.
During his distinguished military career of 29 years, he has been awarded with Uttama Seva Padakkama, Long Service Medal and Clasp, Poorna Bhoomi Medal, SLAF 50th Anniversary Medal, North & East Operations Medal and Clasp, East Humanitarian Operations Medal, North Humanitarian Operations Medal, 50th Independence Anniversary Commemoration Medal and Riviresa Campaign Service Medal.
He is married to Bernadine and blessed with sons; Shakthi Yasas and Gagana Yasith.