SRI LANKA AIR FORCE COMBAT TRAINING SCHOOL CONVEYS BRICKS TO SACRED SRI PADA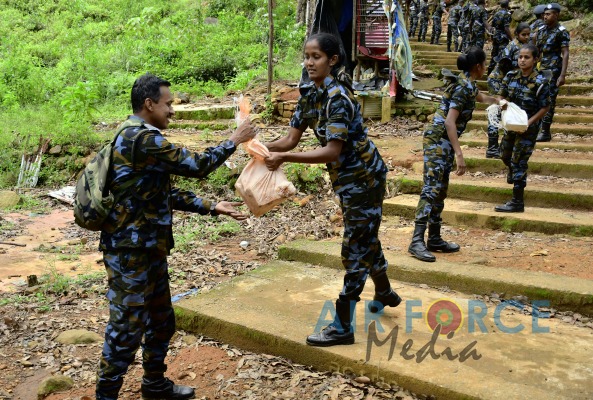 Sri Lanka Air Force Combat Training School at Diyatalawa extended its assistance to convey building material from Nallathanni to Makara Thorana of the sacred Sri Pada on 02 July 2021. This program was conducted as Community Service Project under the guidance of Commander of the Air Force, Air Marshal Sudarshana Pathirana where 7,500 bricks were conveyed up to the Makara Thorana.

The project was executed in assistance to the National Water Board for the construction of an ablution block at Sri Pada to facilitate the devotees. During the program, ration packs arranged by the Seva Vanitha Unit of CTS Diyatalawa, were also distributed to Buddhist monks and needy people in the vicinity.

The total of 500 personnel, inclusive of trainees, members of the permanent staff, instructors and Officers participated in the project under the leadership of the Commanding Officer of Combat Training School at Diyatalawa, Air Commodore PSN Fernando.