RECONSTRUCTION OF BUDDHIST SHRINE ROOM AT COMBAT TRAINING SCHOOL DIYATALAWA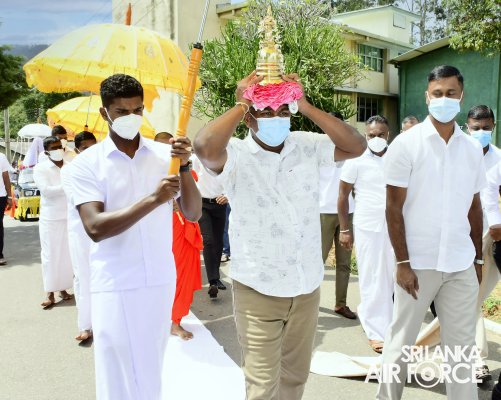 The SLAF Combat Training School at Diyatalawa marked the Binara Full Moon Poya Day in a meaningful and spiritual demeanor. Thus, a long outstanding requirement to have an expanded shrine space for the serving personnel of the School was completed yesterday (20 September 2021).

The previously available shrine space was not adequate to accommodate proportionate number of personnel at a given time at the Combat Training School as and when the requirement existed. Accordingly, the renovation process included construction of new perimeter wall around the shrine, expansion of meditation space and upgrading of illumination posts. The construction work commenced a few months back and was completed with the generous and voluntarily support and construction of all service and civilian employees of the School.

Charm and customary rituals were held to mark the completion of the construction process and the event was conducted while paying the due consideration to COVID 19 prevention measures. The project was carried out under the directives of Commanding Officer of the Combat Training School at Diyatalawa, Air Commodore PSN Fernando.