Senior Officers' (Group Captains and Wing Commanders) Refresher Course Successfully Conducted at SLAF CTS Diyatalawa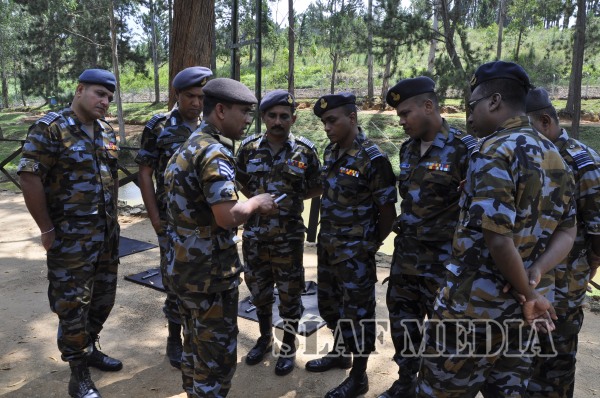 The Closing Address of the Senior Officers Refresher Course 02/2015 was held under the patronage of the Commanding Officer of the SLAF CTS Diyatalawa. A five (05) day course was successfully conducted from 25 May 15 to 29 May 15 at SLAF CTS Diyatalawa under the guidance of the Commanding Officer.

The course programme was convened for seven (07) senior officers as per the directives given by the Directorate of Training, Air Force Headquarters in order for the officers to be proficient on Drill Theory, Flags and Pennants, Mechanics of Ground Defiance, Executive Fitness, Internal Security Operations, Air Intelligence, Land Navigation and Range Firing; further they went through an experience on a land navigation march.

Each of the lectures was followed by a practical exercise to enhance their knowledge and experience further.
Officer Commanding Training, Chief Instructor Officer Training, Officer Instructors and other rank Instructors shouldered the responsibility of educating the participants throughout the course with the guidance of the Commanding Officer SLAF CTS Diyatalawa.