COMMISSIONING 75TH STUDENT OFFICERS COURSE, LANYARD AND CANE AWARDING CEREMONY OF GUNNER INSTRUCTORS HELD AT DIYATALAWA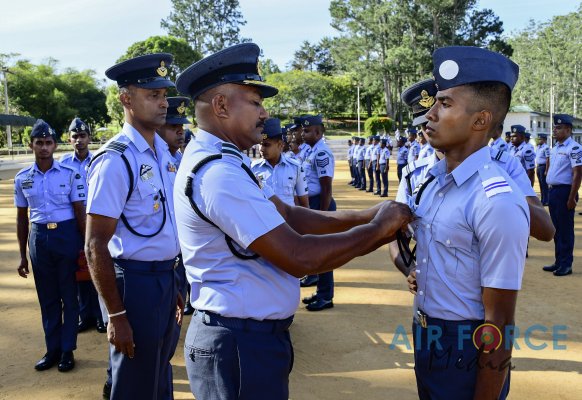 The Commissioning of the No 75th Student Officers' Course, Lanyard and Cane Awarding Ceremony of the No 52 Regiment Officer Cadets' Course and No. 58 Airmens' and No 17 Airwomen Gunner Instructors' Technique Course was held on 01 August 2021 at the Sri Lanka Air Force Combat Training School Diyatalawa. The Commanding Officer of the School, Air Commodore PSN Fernando graced the occasion as the Chief Guest. The Officer Commanding Training, Wing Commander RND Senadheera, all Officers and Instructors participated for the event.

Eleven Student Officers were commissioned and gracefully passed out accomplishing their initial officer training on combat and administrative phases. Five (05) male Officer Cadets, a Lady Officer Cadet, thirty eight (38) Airmen and two (02) Airwomen who had successfully completed their Special Regiment and Gunner Instructor phases received their lanyards and canes during the ceremony. Further, Corporal Jayasinhe KD was adjudged as the Best All-Round Gunner Instructor of the 58 Airmens' Gunner Instructor Course.

Commanding Officer, addressing the parade emphasized that through hard work and dedication on training they have reached an important milestone in their career. Conversely, the Officer Cadets and instructors should work with perseverance to discharge their duties in their respective areas by setting up exemplary characters.