THE SLAF COMBAT TRAINING SCHOOL, DIYATALAWA ESTABLISHES OFFICER CADETS GOVERNMENT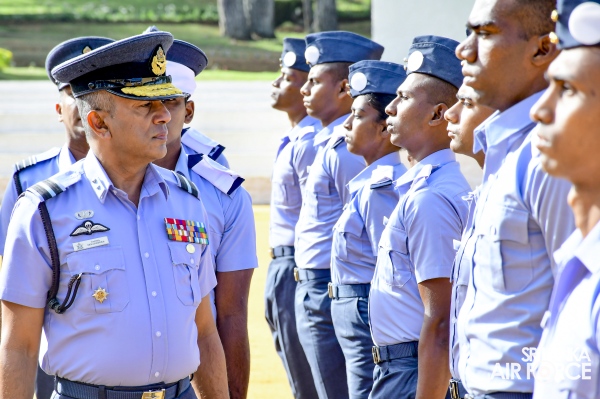 The SLAF Combat Training School, Diyatalawa, has taken a significant step as a new movement in the training subculture by establishing the Officer Cadets' Government. This historic event was commemorated with a grand ceremony held at the school's Parade Square on 16 September 2023.
The Officer Cadets' Government concept was introduced and established at Air Force Academy China Bay for the first time in its history under the auspices of the Commander of the Air Force, Air Marshal Udeni Rajapaksa, with the aim of forming a firm link between officer instructors, other rank instructors and officer cadets. The establishment of Officer Cadets' Government at SLAF Combat Training School, Diyatalawa marked the second leg of this process, which aims to empower Officer Cadets to carry out responsibilities and assigned tasks to maintain high standards of discipline and imbue leadership qualities in young Officer Trainees who will potentially be commissioned as they successfully complete their cadetship.
The appointment holders are responsible for maintaining discipline among Senior and Junior Officer Cadets, irrespective of gender differences and shall work hand in hand with the training contingent of the Combat Training School. Thus, they will administer and monitor the daily activities of the Officer Cadets, including morning PT, billet inspections, daily muster, evening lecture studies, and attendance in recreational activities.
The selection process for these Officer Cadets' Government positions is rigorous and meticulous. It involves a comprehensive evaluation of each Officer Cadet's performance, taking into account factors such as military excellence, academic achievements, impeccable attendance, active involvement in both co-curricular and extra-curricular activities, as well as exemplary conduct. This process ensures that those entrusted with these roles are truly exemplary leaders who can guide and inspire their fellow cadets on the path to becoming outstanding officers in the Sri Lanka Air Force.
The Commanding Officer SLAF Combat Training School, Diyatalawa, Air Commodore Vajira Senadeera, graced the event as the Chief Guest and while congratulating the appointment holders, he emphasised how important it is to take up leadership in the face of challenges and their role in maintaining discipline in the school. All officers, other ranks, trainees and civilian members of the school attended the occasion.
The list of Cadet Government appointment holders from No.55 & 55-B (No.67 Intake Officer Cadets', No.19 Intake Lady Officer Cadets' and No.38 KDU Officer Cadets') Intakes

Combat School Under Officer – 12747 Officer Cadet Fernado SVR
Adjutant to Combat School Under Officer -12746 Officer Cadet Pushpakumara IHKP
Squadron Under Officer – 12566 Officer Cadet Bandara KMM
Flight Under Officer – 12748 Officer Cadet Kularathne TTS
Flight Under Officer – 12744 Officer Cadet Munasinghe GIS

Junior Under Officer – 00762 Lady Officer Cadet Maduwanthi MDT
Junior Under Officer – 12752 Officer Cadet Araluwagoda AGKGB
Cadet Warrant Officer – Officer Cadet 12869 Officer Cadet Chean WLP
Cadet Senior Non-commissioned Officer– 12873 Officer Cadet Arachchci AUM
Cadet Senior Non-commissioned Officer – 00791 Lady Officer Cadet Kulasooriya RGP
Cadet Junior Non-commissioned Officer – 12868 Officer Cadet Herath HMSS
Cadet Junior Non-commissioned Officer – 12866 Officer Cadet Jayathissa PDS
Cadet Junior Non-commissioned Officer –00794 Lady Officer Cadet Senarathne KAIS
Cadet Junior Non-commissioned Officer – 12879 Officer Cadet Sirimanna RMKR