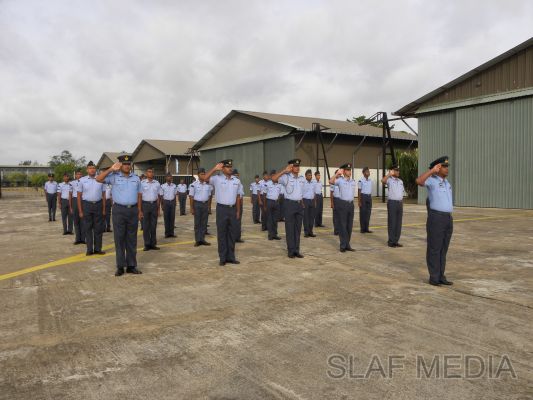 No. 111 Unmanned Aerial Vehicle (UAV) Squadron celebrates 4 years of Service
2:49pm on Tuesday 5th June 2012
No. 11 Unmanned Aerial Vehicle Squadron was initially established in year 1996 as No11 UAV flight, acquiring Israeli built 'Super Scout' UAVs to gather air intelligence for SLAF. Subsequently more advanced 'Searcher MK II' UAVs from Israel were added to the fleet. On 1st June 2008 the formation was remodeled as No 111 UAV Squadron to cater the demanding operational requirements. Currently the squadron is commanded by Wg Cdr BAMP Balasooriya.
No 111 UAV Squadron flew its Searcher MK II UAVs extensively throughout the "Humanitarian Operation" providing invaluable visual intelligence to both SL Army ground commanders and fighter squadrons of the SLAF. The squadron was one of the key contributors to operational success against the LTTE with 1665.49 operational hours during 265 operational missions.
To mark the event, the formation day parade was held on 1st June 2012. At the parade, "Airman of the Year" award was presented to 22034 Sgt Perera WPC (Aero Eng) and also three merit certificates were awarded to the 19038 Sgt Palipana UBW (Aero E&I), 25726 Cpl Gunasekara (Air Radio) and 022667 AC Prabath WS (Plant Optr), who have performing outstandingly during the year 2011.
A "shramadana" was organized to uphold the standards of a school in the Vavuniya region on 31st May 2012 as a further contribution to the community marking this special day.
The celebrations concluded with a cricket tournament with the participation of all ranks at the Squadron.