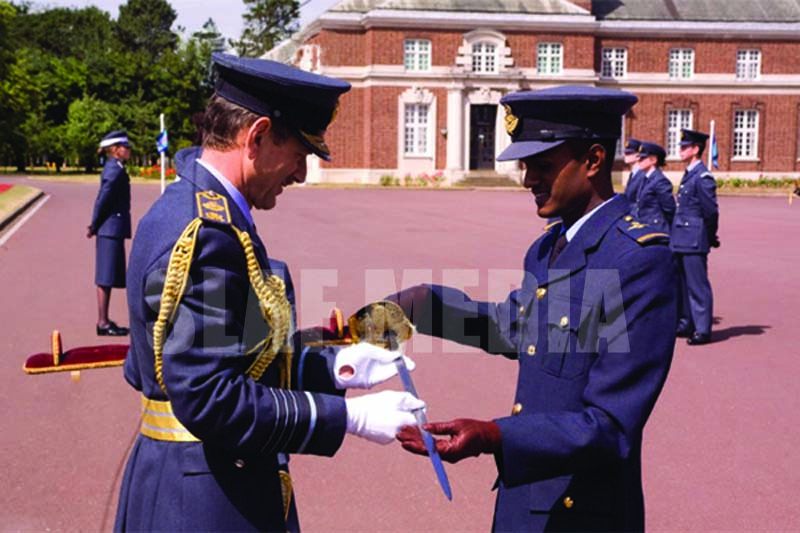 Officer Cadet Kithsiri Honored From Cranwell Royal Air Force Academy
2:21pm on Friday 13th August 2010
Officer Cadet Kithsiri BADHB of Sri Lanka Air Force was awarded the "Sword of Honour" for the best International Cadet of 2010 at the Initial Officers Training Course at the Royal Air Force College in Cranwell, United Kingdom.
He received this award during the Royal Review Parade held on the 08th of July 2010 where the Commanding Chief of Staff of the Royal Air Force Air Chief Marshal Simon Bryant CBE,MA, BA ,RAF presented the sword of honour to him.
This award is presented to the international cadet who proved to be the most outstanding in the particular year in which four Initial, Cadet training courses of that particular year are considered. His performance has been identified as the most outstanding effort by any International Officer Cadet during the last twelve years at the Royal Air Force College Cranwell.
He followed the eight month long course from 02nd of January 2009 to the 14th of August 2009 with one hundred and sixty two Officer Cadets including twelve foreign Officer Cadets from Commonwealth countries. During that period he read military skills, Air force Administration, Leadership and engaged in various practical exercises, as well as physical fitness and sports excelling exceptionally in all.
Finally he graduated with merits in Air Power studies from King's College, London and for Air Warfare from Air Warfare Center in Cranwell.
Officer Cadet Kithsiri was the Best All Round Cadet in the Basic Combat Course in Diyatalawa prior to being selected to proceed to the United Kingdom. Currently he is undergoing the Basic Flying Training Course at No.1 Flying Training Wing China Bay.
Officer Cadet Kithsiri was born on 23rd April 1987 and completed his studies at Bandarawela Maha Vidyalaya. Mr. Kamal Kithsiri, (Inspector of Police) and Mrs. Gayani Kumari are his parents and he has two siblings. He was the Regimental Sergeant Major of the National Cadet Corps in 2006 and has participated in the Indian Republic day Parade in the same year, and he has performed in the school dancing troop also. He was enlisted to the 52nd Officer Cadet Intake and selected as the Best Officer Cadet of the course.