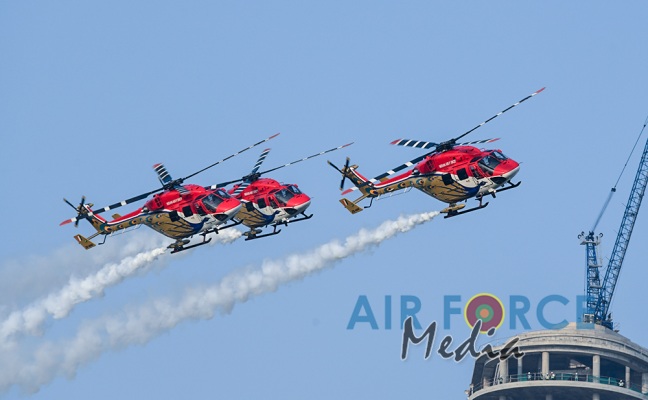 SLAF TOGETHER WITH IAF LIGHT UP THE SKIES ABOVE GALLE FACE GREEN
9:06pm on Wednesday 3rd March 2021
The SLAF which proudly celebrated 70 years as the "Guardians of the Skies" yesterday (02 March 2021) commenced its three-day Aerobatics Extravaganza at Galle Face Greens today (03 March 2021). Today's Air Show which was the first of the three-day event was held under the auspices of His Excellency the President of the Democratic Socialist Republic of Sri Lanka, Gotabaya Rajapaksa.

The Air Show was open to the public and was held giving a very high importance to the health practices related to the prevention of COVID-19. The inaugural Air Show was also attended by H.E. High Commissioner of India to Sri Lanka, His Excellency Gopal Baglay, the Governor of the Western Province, Marshal of the Air Force Roshan Goonetileke, General G.D.H. Kamal Gunaratne (Retd), Secretary to the Ministry of Defence and State Ministry of National Security and Disaster Management, Acting Chief of Defence Staff and Commander of the Army, General Shavendra Silva, Commander of the Navy, Vice Admiral Nishantha Ulugetenne. The Air Show was also attended by the visiting Chief of Air Staff of the Bangladesh Air Force, Air Chief Marshal
Masihuzzaman Serniabat as well.

Todays Air Show commenced with the Fly-Past by the Sri Lanka Air Force which included Bell 212, Bell 412 helicopters, Mi-17 helicopters, Cessna 150 aircraft, B200 Beech King aircraft, MA-60 aircraft followed by the supersonic F-7s. Soon after the SLAF Fly-past the Tejas Multirole Light Fighter Aircraft commenced their aerobatic sequence signifying the start of the IAF aerobatics show. After the scintillating performance by the Tejas, the Sarang Helicopters commenced their mind-blowing maneuvers which kept the spectators guessing through out the performance. The Sarang Team was followed by the elegant Surya Kiran's made up of 9 BAE Hawk's flying in close formation. The maneuvers which were performed by the Kiran's continued to keep the eyes of the spectators fixed on the clear and beautiful skies above Galle Face Green.

The Air Show came to an end with one of our very own F-7 fighter jet aircraft making a low and daring pass and an after burner zoom up followed by an aileron roll before disappearing in to the skies. The spectators were caught off guard as the F-7 seems to appear out of no where and blazed through the skies above Galle Face Green with its deafening roar thus marking the end of today's Air Show.