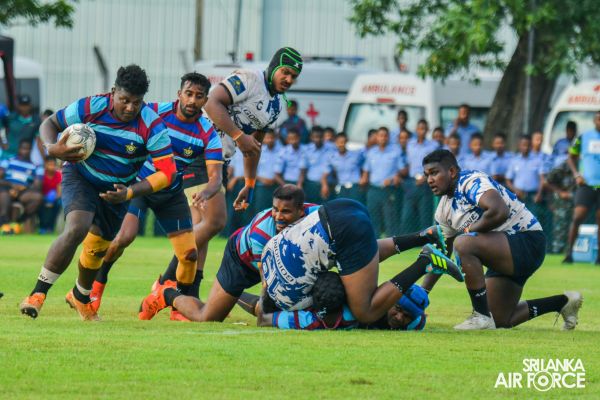 AIR FORCE MEN'S RUGBY TEAM EMERGES DEFENCE SERVICES RUGBY CHAMPIONS 2023
8:21am on Wednesday 24th May 2023
The Air Force men's rugby team achieved yet another remarkable triumph following the successful movement in the A Division Rugby League in 2023, where they were achieved the Plate Championship. Displaying exceptional skill and resilience, added a new title by securing consecutive victories against Army SC and Navy SC during the defense services rugby tournament held at Ratmalana Rugby Grounds on 09 and 16 May 2023, respectively.

Despite facing challenging conditions on a rain-soaked ground in Ratmalana, the Air Force rugby team demonstrated their bravery and emerged victorious against Army SC with a close score line of 15 to 13 on 9 May 2023. This hard-fought battle showcased the team's determination and ability to overcome obstacles.

On 16 May 2023, Navy SC arrived at the tournament with high hopes and confidence, having previously defeated the Air Force team at Welisara during the league. However, much to the sailors' disappointment, the Airmen arrived with a formidable setup and an attacking mindset, ultimately prevailing over their opponents with a score of 23 to 13 at the final whistle. The Air Force team's victory showcased their adaptability and ability to learn from previous encounters.

The match for second place and the subsequent awards ceremony took place yesterday (23 May 2023), under the participation of Commander Naval Infantry, Rear Admiral PANJ Ponnamperuma as the Chief Guest. The ceremony served as a platform to acknowledge and honor the outstanding performances displayed throughout the tournament.Notably, Leading Aircraftman Iddamalgoda MMG was recognized as the best player in the men's category, further emphasizing the Air Force team's exceptional talent and skill.