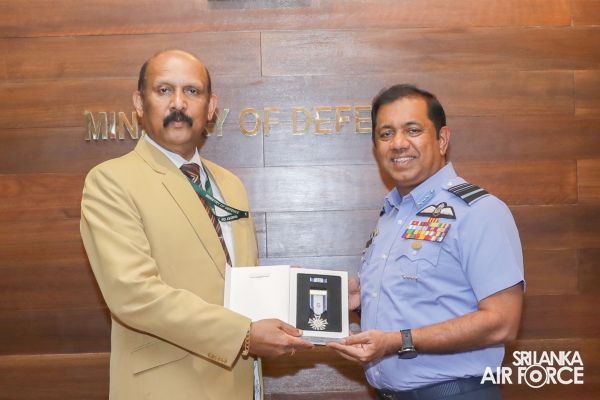 COMMANDER OF THE AIR FORCE HONOURED WITH THE TITLE OF "OFFICER OF THE CISM ORDER OF MERIT" FOR OUTSTANDING CONTRIBUTION TO MILITARY SPORTS
10:21pm on Monday 29th May 2023
The Commander of the Sri Lanka Air Force and the incumbent President of the Defence Services Sports Board, Air Marshal Sudarshana Pathirana, was conferred with the distinguished honour of the "Officer" title in the Order of Merit by the Conseil International du Sport Militaire (CISM), also known as the International Military Sports Council. The event took place at the Ministry of Defence, with the respected presence of Secretary to the Ministry of Defence, General Kamal Guneratne (Retd), today (29 May 2023).

The CISM Order of Merit may be conferred by the Board of Directors on anyone who, by his or her actions, has demonstrated the ideals and goals of CISM. Generally, the recipient would be an individual of eminent stature in the field of physical education or sport and an individual who, by personal performance or by contribution to the development of sports in the Armed Forces, rendered exceptional service to the cause of CISM.

Throughout his illustrious career, Air Marshal Sudarshana Pathirana has made significant contributions to the development of military sports in Sri Lanka. His leadership as the President of the Defence Services Sports Board has been instrumental in fostering and promoting sports within the defence community. Under his guidance, the 4th CISM World Military Beach Volleyball Championship was successfully organized in 2022, showcasing his untiring commitment to uplifting military sports on an international platform.

Furthermore, Air Marshal Pathirana played a pivotal role as the Vice Chairman of the Organizing Committee for the 11th CISM World Military Golf Championship in 2017, which was hosted in Sri Lanka. His invaluable contributions to the organization and execution of this event demonstrated his dedication to the spirit of CISM and further solidified his standing in the field of military sports.

His exemplary leadership and exceptional contributions have not only raised the profile of sports within the Armed Forces but have also positively impacted the broader sporting community.