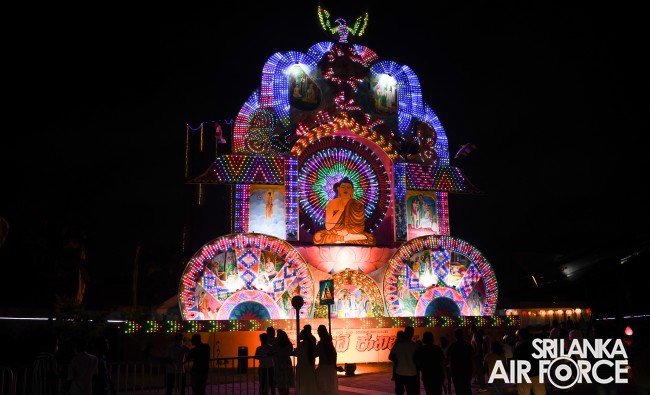 SLAF CELEBRATES POSON WITH VIBRANT PANDAL DISPLAY AND ACTS OF GENEROSITY
11:01pm on Saturday 3rd June 2023
Commander of the Air Force, Air Marshal Sudarshana Pathirana, along with Chairperson Seva Vanitha Unit, Mrs. Charmini Pathirana and Chief of Staff, Deputy Chief of Staff, as well as members of the Air Force Board of Management together with their spouses, Senior Officers, airmen and women of the SLAF, participated in the Poson celebrations. This event, meticulously organized under the close supervision of the Director General Welfare and the Commanding Officer of SLAF Station Colombo, took place today (03 June 2023).

The centerpiece of these celebrations was a captivating pandal, portraying the story known as "Maha Bodhi Jathakaya," which was ceremoniously illuminated by the Commander of the Air Force. The religious observances were presided over by the Chief incumbent of the Gangarama temple, Venerable Dr. Kirinde Assaji Thera prior to the illuminating of the pandal. This vibrant pandal was prominently displayed in the forecourt of the Air Force Headquarters premises, offering a visually stunning experience to all visitors. The pandal remained open for public viewing for a period of three days. In recognition of the dedicated efforts of the team involved in creating this remarkable sight, the Commander of the Air Force granted monetary rewards as a gesture of appreciation.

Following the pandal exhibition, the Directorate of Welfare took further initiative to organize a thoughtful act of generosity that included a "Chickpea Dansala". Significantly, a "Jackfruit Dansala" with the collaborative support extended by the revolutionary project of "Guwan Hamuda Herali Peraliya" for the public was organized to raise public awareness and promote Jackfruit food culture among city dwellers. The attractive stall created showcasing the objectives of the "Herali Peraliya Project" and the taste of prepared jackfruits were apparently overwhelmed by the crowd gathered. These acts aimed to exemplify the virtue of selflessness and promote a sense of unity and community among all those who attended.