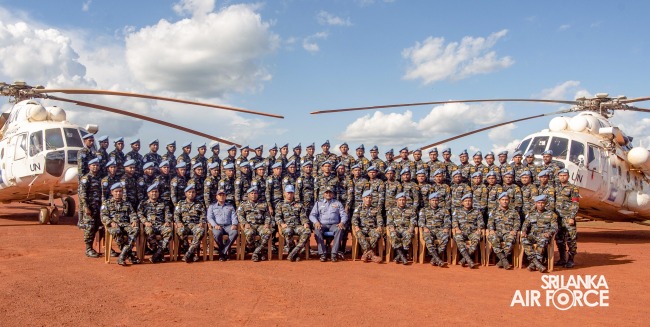 HIGHER LEVEL SUPERVISION VISIT OF NO 8TH AVIATION CONTINGENT AT MINUSCA
10:13pm on Monday 5th June 2023
The Higher-Level Supervision visit of the Aviation Contingent at MINUSCA was conducted from 28 May 2023 to 02 June 2023.The delegation was headed by the Director General Ground Operations, Air Vice Marshal Waruna Gunawardana and was received by the Contingent Commander, Wing Commander Priyanka Herath.

The Contingent Commander conducted the briefing that covered all the operational and non-operational aspects pertaining to the contingent. After the briefing, the head of delegation inspected the Sri Lanka Aviation Unit, which allowed him to understand the actual context of the contingent.

As the conclusion of the higher-level supervision visit approached, the Director General Ground Operations addressed all the service personnel and praised the contingent for their dedicated services to the United Nations and the SLAF during challenging times and encouraged them to maintain standards at the highest level. After the formal address, the head of delegation interacted with the contingent at the all-ranks Tea Party.

During the visit, the Director General Ground Operation met the Sector Commander of Sector East Headquarters MINUSCA, Brigadier General Khandaker MD Shahidul Emran and the Force Commander of MINUSCA, Major General Pedro Miguel Alves Goncalves Soares, at Force Headquarters Bangui.