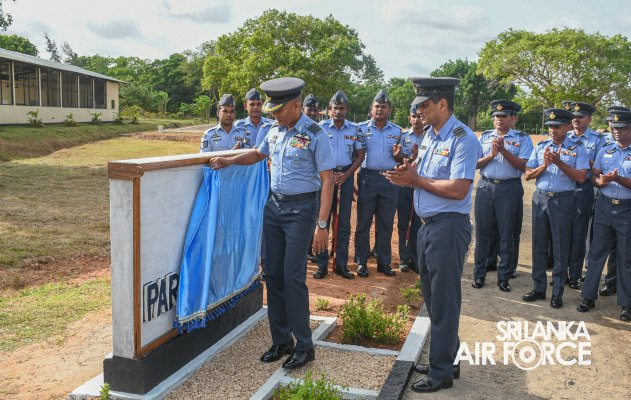 SLAF BASE VAVUNIYA UNVEILS A NEW PARADE SQUARE AND AIR WARRIORS' MONUMENT
2:29pm on Thursday 8th June 2023
The Base Commander of SLAF Base Vavuniya, Group Captain PN Gunathilake officiated the opening ceremonies of significant additions to the base today (08 June 2023). The event commenced with the unveiling of the newly constructed parade square, a project that had long been awaited and was met with great enthusiasm by the personnel at SLAF Base Vavuniya. This new parade square will serve to uplift discipline, respect, integrity, learning and leadership among service personnel.

A notable highlight of the occasion was the inauguration of the captivating Air Warriors' Monument, strategically positioned at the main entrance of the base. This imposing structure stands as a symbol of honour and recognition for the gallant individuals who have served and continue to serve in the Sri Lanka Air Force. Perfecting the monument is the pristine FT-5 fighter aircraft, poised elegantly alongside it. This prominent display further emphasizes the base's rich heritage and its enduring legacy of delivering exemplary airpower.

These commendable occasions were attended by all officers and other ranks of the Base.