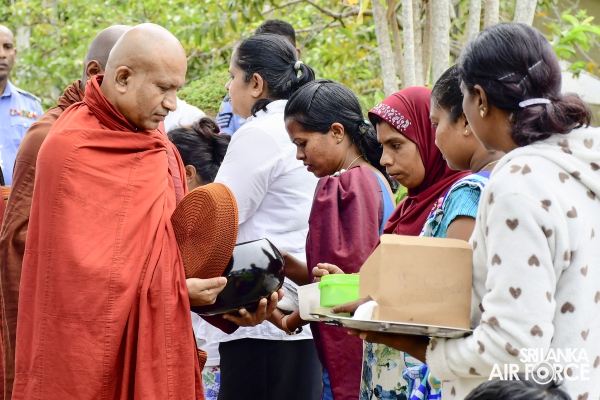 SLAF COMBAT TRAINING SCHOOL DIYATALAWA FACILITATES "PINDAPATHA CHARIKA"
8:00pm on Sunday 17th September 2023
SLAF Combat Training School in Diyatalawa facilitated a meaningful event known as the "Pindapatha Charika," deeply rooted in traditional Buddhist practice, on 15 September 2023. The monks proceeded on a peaceful and meditative walk, retracing the footsteps of ancient Buddhist traditions and bestowing their blessings upon the School and its community.

This meritorious event which aimed to develop spiritual wellbeing of School personnel witnessed the participation of 15 revered Maha Sangha, who graced the School with their presence. With serene reverence, the Maha Sangha headed on a solemn walk around the camp, receiving offerings of residents of Married Quarters and other staff of the School.

This spiritual occasion was held under the guidance of Commanding Officer SLAF Combat Training School Diyatalawa, Air Commodore Vajira Senadheera.