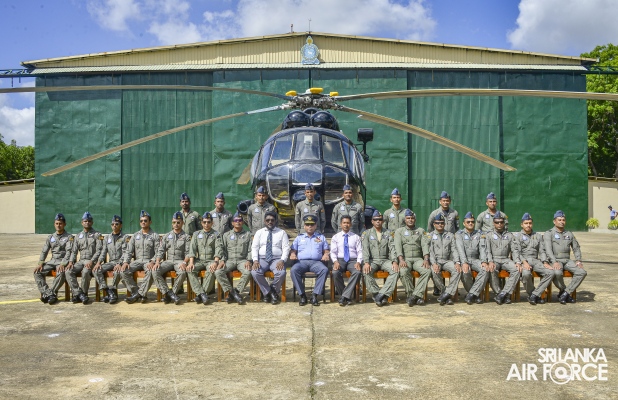 MI-17 HELICOPTER FLIGHT ENGINEERS' KNOWLEDGE AND EXPERIENCE SHARING PROGRAMME
8:05pm on Sunday 17th September 2023
A significant knowledge and experience sharing program was conducted at SLAF Base Anuradhapura yesterday (16 September 2023) with the primary aim of expanding the horizons of currently serving Mi-17 Helicopter Flight Engineers. This noteworthy event brought together a total of 26 Flight Engineers, which included two retired Flight Engineers, 13 Flight Engineer Officers and 11 airmen.

The occasion was graced by the presence of the Deputy Chief of Staff, Air Vice Marshal TADR Senanayake, as the chief guest. Notably, Air Vice Marshal Senanayake is the most senior Flight Engineer of Mi-17 helicopters within the Sri Lanka Air Force. His participation added significant prestige to the proceedings.

The event was further enriched by the presence of both retired and presently serving senior Flight Engineers. These distinguished individuals have played pivotal roles in various critical missions, including the Elam War and Humanitarian Operations, as well as UN Peacekeeping Missions. Their wealth of experience and expertise proved invaluable in enlightening the session and contributing to the professional growth and knowledge enhancement of all participants.

This knowledge and experience sharing program assisted as a commendable initiative to raise collaboration, imparting of expertise and promote continuous learning among Mi-17 Helicopter Flight Engineers in the Sri Lanka Air Force.