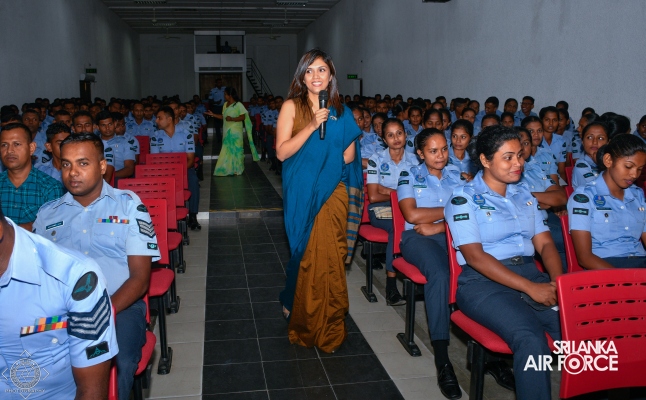 WORKSHOP FOR PRE-MARITAL AND NEWLY MARRIED COUPLES IN THE SLAF
7:53pm on Friday 22nd September 2023
The SLAF Seva Vanitha Unit and the Directorate of Health Services organized a one-day workshop for premarital and newly married couples of SLAF to provide them with better knowledge and understanding to lead a successful married life. The program was conducted yesterday (21 yesterday 2023), at SLAF Trade Training School Ekala.

Chairperson of the SLAF Seva Vanitha Unit, Mrs. Enoka Rajapaksa, graced the occasion as the Chief Guest, and the event was attended by Director General of Health Services, Air Vice Marshal (Dr.) Lalith Jayaweera, Commanding Officer of the SLAF Trade Training School Ekala, Group Captain Uditha Piyasena, President of the Seva Vanitha Unit at SLAF Trade Training School Ekala, Squadron Leader Prasanthika Gayani Demel (Retd) and Station Medical Officer of SLAF Trade Training School Ekala, Wing Commander Priyanga Rajapaksha. A total of 150 personnel participated in the event, including newly married SLAF personnel with their spouses and SLAF personnel who are planning to get married in the near future, along with their intended spouses.

The resource personnel who shared their knowledge and experience while conducting interactive and activity-based sessions namely, Prof. Neranji Wijewardana from the Department of Criminology and Criminal Justice, University of Sri Jayawardnanapura, Deputy Director of Counseling, Sri Lanka, Mrs. Badra Udawaththa, Family Planning Association, Dr. Dilini Illukpitiya, Senior Registrar in Reproductive Medicine at Castle Street Hospital for Women, Inspector of Police Mr. Wasana Perera, Attorney-at-Law, Officer In-charge of Supreme Court and Appeal Court at Police Headquarters, SLAF Clinical Psychologist, Wing Commander Susil Premarathna and Squadron Leader Shanaka Thilakarathna, SLAF Nutritionist.