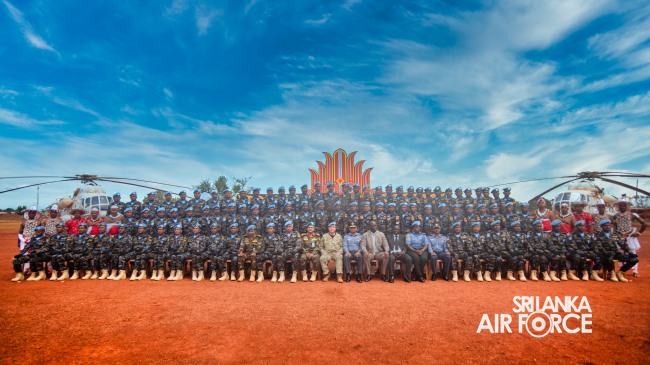 UNITED NATIONS PEACEKEEPERS' MEDAL AWARDING PARADE CONCLUDES AT CENTRAL AFRICAN REPUBLIC
3:52pm on Saturday 18th November 2023
The prestigious United Nations Peacekeepers' Medal Awarding Parade for Sri Lanka Air Force 8th Aviation Contingent deployed at Bria in the Central African Republic was glamorously held on 15 November 2023. Major General Pedro Miguel Alves Gonçalves Soares, the Deputy Force Commander of the United Nations Mission in Central African Republic (MINUSCA), took the salute during the ceremony as the Chief Guest and reviewed the parade.
The Director General General Engineering of Sri Lanka Air Force, Air Commodore Gihan Seneviratne, graced the occasion as the Guest of Honour. The Sector Commander Sector East Brigadier General Khandaker Md Shahidul Emran, Head of Office Mr. Bara Dieng, Military and Civilian UN Staff Officers in MINUSCA and other dignitaries were present at the ceremony.
The Chief Guest and the Guest of Honour were received by the Contingent Commander, Wing Commander Priyanka Herath. Wing Commander Kalum Herath commanded the parade, which was accompanied by a drill demonstration and a cultural performance with traditional "Kandyan" dancing and drum percussion. The Chief Guest complimented Sri Lanka Aviation's crew members for their professionalism and sheer dedication and he praised them for their substantial role to the MINUSCA by displaying courage and valour in the face of extreme adversity.
The 8th Sri Lanka Air Force Contingent comprises 21 Officers and 89 Other Ranks, which was deployed to MINUSCA on 04 December 2022. It has flown 1725 hours for Air Transport Operations, VIP flights, Medical Evacuations, Casualty Evacuations and Armed Missions whilst transporting 4,041 passengers and 445,008 kg of cargo over the span of the last eleven months.