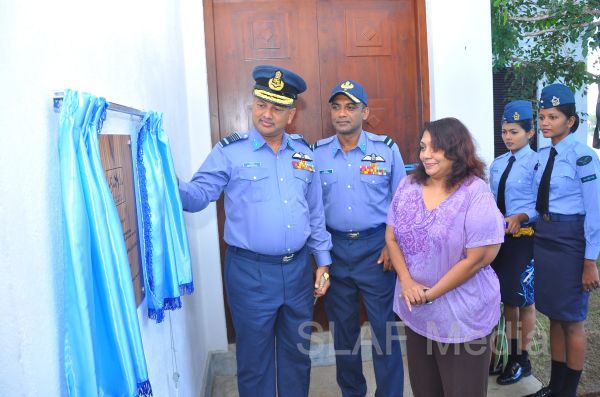 "Serene Villa" Opens at Eagles' Golf Links China Bay
4:18pm on Saturday 21st December 2013
The Commander of the Air Force Air Marshal Harsha Abeywickrama declared open the newly constructed "Serene Villa", as a new addition to the Bay View resort at Eagles' Golf Links SLAF Academy China Bay this morning (21th December 2013).
The picturesque view of the sparkling waters of a stunningly beautiful China Bay lagoon fringed by trees on an undulating land greets the person looking out from the villa. Located in very close proximity to the Eagles 'Golf Links (EGL), the villa consists of two fully furnished Air conditioned luxury rooms with attached bathrooms consist with hot water facility, a timber composite outdoor deck, a miniature infinity pool, Open veranda, sitting area with separate wash room, a fully equipped kitchen with modern cooking apparatus, and common dining facility for six persons at a time. Bookings can be made through the
[email protected]
.
The project was totally designed and built by the Directorate of Civil Engineering of the Sri Lanka Air Force with over forty Civil Engineering Trade personnel attached to SLAF Academy China Bay under the Special Project Engineer, Flying Officer KWMCK Wijeratne.
The Chairperson of the Seva Vanitha Unit (SVU) of the Sri Lanka Air Force Mrs. Neelika Abeywickrama, the Commandant of SLAF Academy China Bay Air Commodore HMSKB Kotakadeniya, project architect Flight Lieutenant HAMJ Hapuarachchi, Senior Officers, Officers and a cross section of Airmen of the SLAF Academy China Bay were also present at the opening.