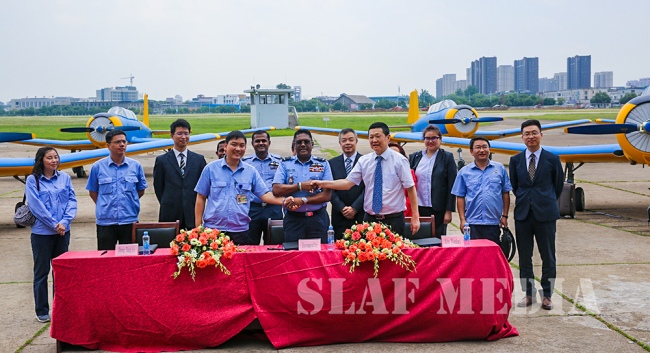 The Commander Accepts Six (6) PT-6 Aircraft from CATIC
2:38pm on Friday 18th May 2018
The Commander of the Air Force, Air Marshal KVB Jayampathy signed the acceptance of 6 Brand New PT-6 Aircraft on 15 May 2018 at AVIC Hongdu in Nanchang, China.

The Aircraft, painted in the recently introduced colour scheme of the SLAF, were inspected and flight tested by SLAF Engineers and Pilots and were deemed to be in conformance with the specifications and ready to be inducted into the SLAF Fleet.

The Aircraft will be utilized at the No1 Flying Training Wing at the SLAF Academy, China Bay for the ab initio training of newly enlisted pilots.

Signing on behalf of M/S CATIC was Mr Liu Jianhai, Vice President of CATIC while Mr. Zheng Tangjie, Vice President of AVIC Hongdu, signed as witness.


The Director Civil Engineering of the SLAF, Air Vice Marshal MRK Samarasinghe who also joined the Commander on the visit, held discussions with CATIC on the progress of the Aircraft Overhaul Wing Project which is being progressed in collaboration between SLAF and CATIC.