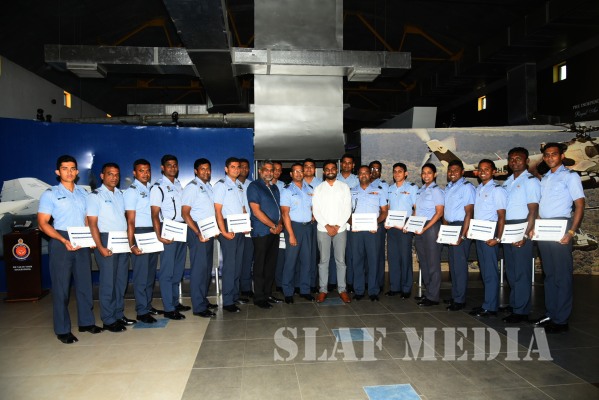 Workshop on Mastering Ceremonies Concluded at Air Force Museum
10:27pm on Tuesday 29th May 2018
The Air Force Directorate of Media organized a Four Day Workshop for Compères on Mastering Ceremonies from 26 to 29 May 2018. The workshop was conducted at the auditorium of the AF Museum at SLAF Base Ratmalana.

The course was facilitated by Mr. Zameen M Saleem and Mr. Arfath M Saleem. Mr Zameen Saleem is a Mind Map practitioner and a coach. He is a member of Toastmasters International, a not-for-profit organization that has enabled people worldwide to become effective communicators and leaders. He joined Toastmasters in 2004 as a charter (founder) member of IESL Toastmasters Club. He was the third president of the club.

Mr. Arfath Saleem is an HR professional, with over 5 years of experience in High-Impact Training and Development. In 2015, Arfath became the youngest Asian to compete at the finals of the Toastmasters International World Championship of Public Speaking. He became one of the top 10 competitive speakers in the world.

The Closing Ceremony of the workshop was help today (29 May 2018) at the AF Museum. The Base Commander of SLAF Base Ratmalana, Air Commodore Ravindra Liyanagamage graced the occasion as the Chief Guest. The Commanding Officer of the AF Museum, Air Commodore Nihal Jayasinghe and the Director Media of the SLAF, Group Captain Gihan Seneviratne also attended for the event. Certificates of completion were handed over to the participants during the closing ceremony and the ceremony was totally handled by the participants amply showcasing the skills that they learnt during the four days.

This is the first occasion in the history of the SLAF where Compères of the SLAF were formally trained in the art of Mastering Ceremonies. 20 officers in the ranks of Squadron Leader, Flight Lieutenant and Flying Officer participated.