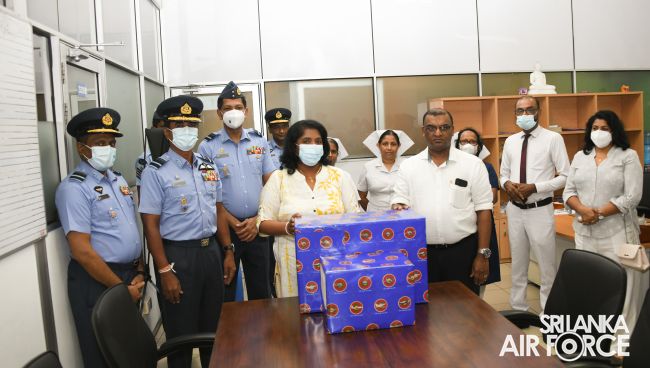 SLAF MAKES A SPECIAL DONATION TO APEKSHA HOSPITAL MAHARAGAMA
9:07pm on Saturday 3rd June 2023
In line with the celebration of Poson Poya Day, the SLAF carried out a special donation valued at 1.5 million rupees to the 'Apeksha Hospital' in Maharagama today (03 June 2023). The donation, organized under the guidance of Commander of the Air Force, Air Marshal Sudarshana Pathirana and the Chairperson of the SLAF Seva Vanitha Unit, Mrs. Charmini Pathirana, aimed to support the hospital in delivering timely, appropriate and optimal care to children with cancer across the country.

The occasion was graced by the presence of Chairperson of the SLAF Seva Vanitha Unit, Mrs. Charmini Pathirana, who handed over the donation to the Deputy Director of the Apeksha Hospita, Dr. Lalith Kodagoda. The event garnered the attendance of the Chief of Staff, Deputy Chief of Staff, members of the Air Force Board of Management, along with their spouses, senior officers and a cross-section of officers and airmen. The solemn event was conducted under the supervision of Director General Health Services, Air Vice Marshal (Dr.) Lalith Jayaweera and Director General Welfare, Air Vice Marshal Suharshie Fernando.


The SLAF's generous contribution highlights its commitment to the well-being of the community and the dedication to supporting vital healthcare institutions. By extending this substantial donation to the Apeksha Hospital, the SLAF aims to enable the hospital to continue providing comprehensive care for children with cancer, ensuring their well-being and facilitating their recovery.