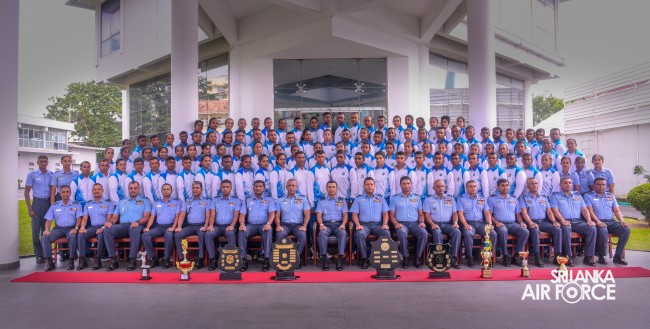 OUTSTANDING SPORTS ACHIEVERS OF 2023 FELICITATED BY THE COMMANDER
3:26pm on Wednesday 20th September 2023
Air Marshal Udeni Rajapaksa, the Commander of the Air Force, in his capacity as the President of the Air Force Sports Council (AFSC), graced a special felicitation ceremony held this morning (20 September 2023), at Air Force Headquarters. The ceremony honoured sportsmen and women from the SLAF who excel in various disciplines including Athletics, Archery, Tennis, Handball, Hockey, Golf, Triathlon, Water polo, Boxing, Weightlifting, Basketball and Rugby. These individuals have demonstrated outstanding performance at both national and international sports championships. In addition, individuals who have achieved excellence at the national and international levels were recognized and rewarded by the President of the Air Force Sports Council.

Furthermore, the Commander of the Air Force promoted Leading Aircraftwoman Wickremasinghe WMAS, to the rank of Corporal in recognition of her remarkable achievement in securing a Silver medal at the Commonwealth Games 2022 held in India.

In addition to honouring specific individuals, the Commander acknowledged the dedication of SLAF Handball Coach, Sergeant Rathnayake RMRD and SLAF Women's Hockey Coach, Mr. N Paraneedharan, for their contributions in upholding the prestige of the SLAF in the realm of sports.

The event was attended by the Chief of Staff, Members of the Air Force Board of Management, as well as Chairmen, Secretaries, Managers and a diverse group of players representing various SLAF Sports Disciplines.