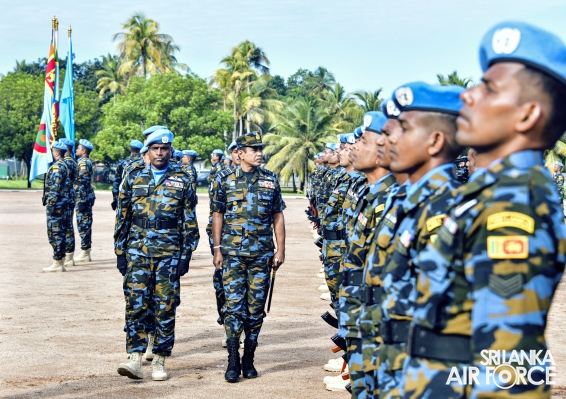 9TH CONTINGENT OF UN PEACEKEEPING MISSION TO THE CENTRAL AFRICAN REPUBLIC PASS OUT AT SLAF BASE KATUNAYAKE
4:46pm on Monday 20th November 2023
The Pass Out Parade of the No. 9 Contingent of Aviation Unit under the United Nations Multidimensional Peacekeeping Mission in Central African Republic (MINUSCA) was held today (20 November 2023) at SLAF Base Katunayake. The Commander of the Air Force, Air Marshal Udeni Rajapaksa took the salute of the parade which was commanded by Wing Commander Asanka Rathnayake, the Contingent Commander of the 9th Contingent.

This Heli-deployment comprises of 21 Officers and 89 Airmen which is scheduled to proceed to the Central Africa Republic by first week of December.

The Commander addressed the parade troops where he emphasized that the UN Headquarters has appreciated the Sri Lanka Air Force aviation contingents deployed in Central African Republic owing to display of bravery, service professionalism and devotion to the duty of our service personnel.

This achievement of the Sri Lanka Air Force speaks volumes of the trust and confidence command by the entire military forces of Sri Lanka and would go a long way in boosting the Nation's image further in the international arena. Besides, this endeavour would bring substantial economic gains to the country as well.